Ks. Jacek Stasiak posiada 3 doktoraty honoris causa zagranicznych uczelni, 4 tytuły profesora honorowego polskich i zagranicznych uczelni oraz tytuł akademika (tytuł ten oznacza szczególnie wysoką pozycję naukową w zagranicznych strukturach uczelnianych), Międzynarodowej Akademii Antropologii Integracyjnej w Winnicy (Ukraina), National Pirogov Memorial Medical University, Vinnytsya.
Jest członkiem zagranicznych redakcji pism naukowych pełniąc w niektórych First Deputy Scientific Editor of Globalization, the State and the Individual Journal, Varna Free University "Chernorizets Hrabar", Varna, Bulgaria oraz Vice-chairman of editorial board of World Medicine Journal, Bukhara State Medical Institute named after Abu Ali Ibn Sino, Uzbekistan/Non-Public Health Care Centre Interschool Department of Rehabilitation and Correction Science and Research Center, Poland.
Jest autorem specjalistycznych naukowych publikacji oraz artykułów w wysoko punktowanych pismach naukowych m. in. w Szwajcarii, Rosji czy Bułgarii m. in. "The Empirical Analysis of the Core Competencies of the Company's Resource Management Risk. Preliminary Study" Risks 2021 oraz "Analysis and Evaluation of the Photovoltaic Market in Poland and the Baltic States" Energies 2022.
Uroczystość wręczenia tytułu doktora honoris causa ks. dr. hab. n. hum. Jackowi Stasiakowi dr. h.c. multi.
Tytuł doktora honoris causa jest najwyższą godnością nadawaną przez uczelnię. Najwyższym wyróżnieniem w świecie akademickim.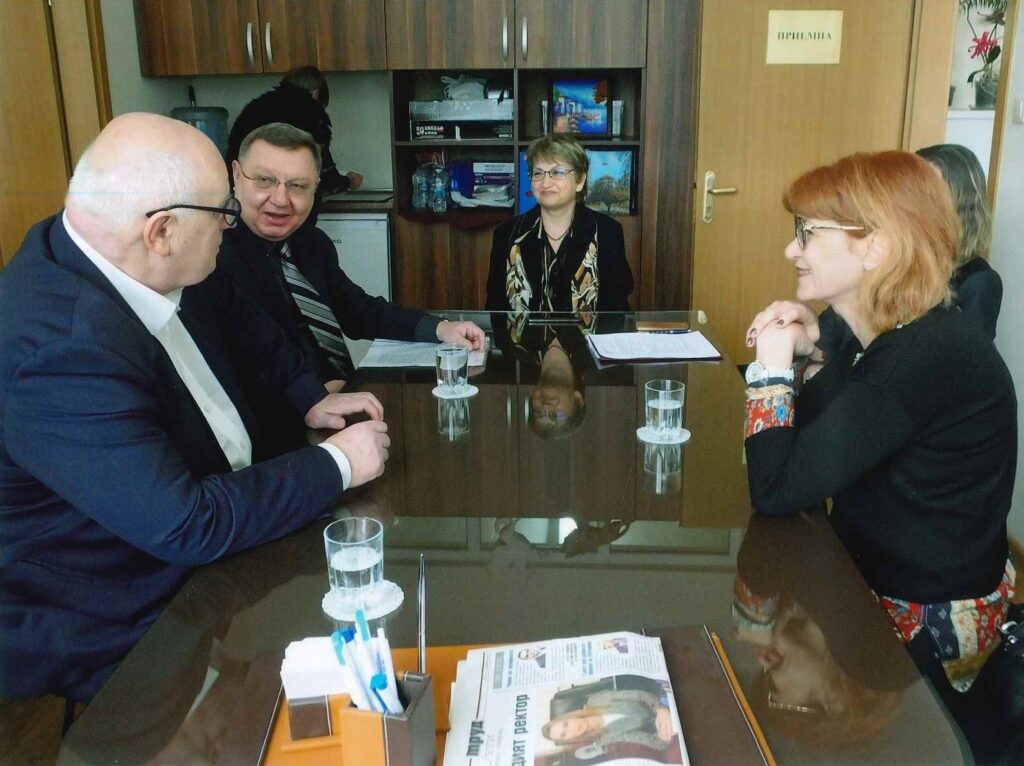 Warsaw Management University – nadanie tytułu profesora honorowego ks. dr. hab. n. hum. Jackowi Stasiakowi dr. h.c. multi.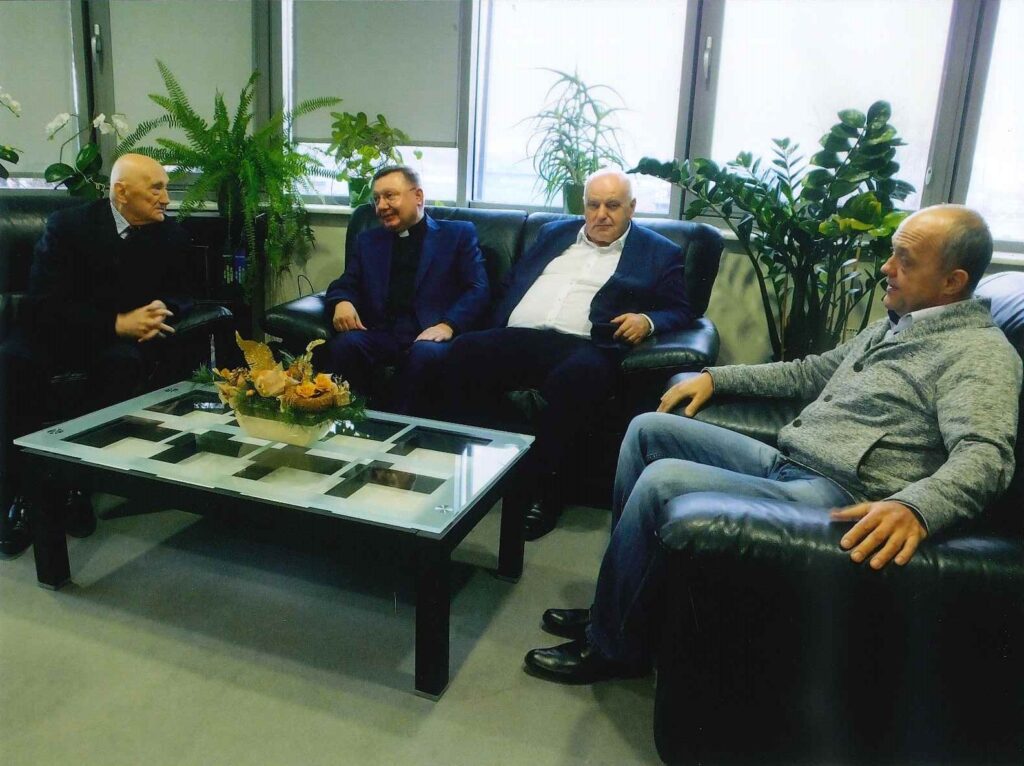 Nadanie tytułu profesora ks. dr. hab. n. hum. Jackowi Stasiakowi dr. h.c. multi w Ambasadzie Republiki Uzbekistanu w Warszawie.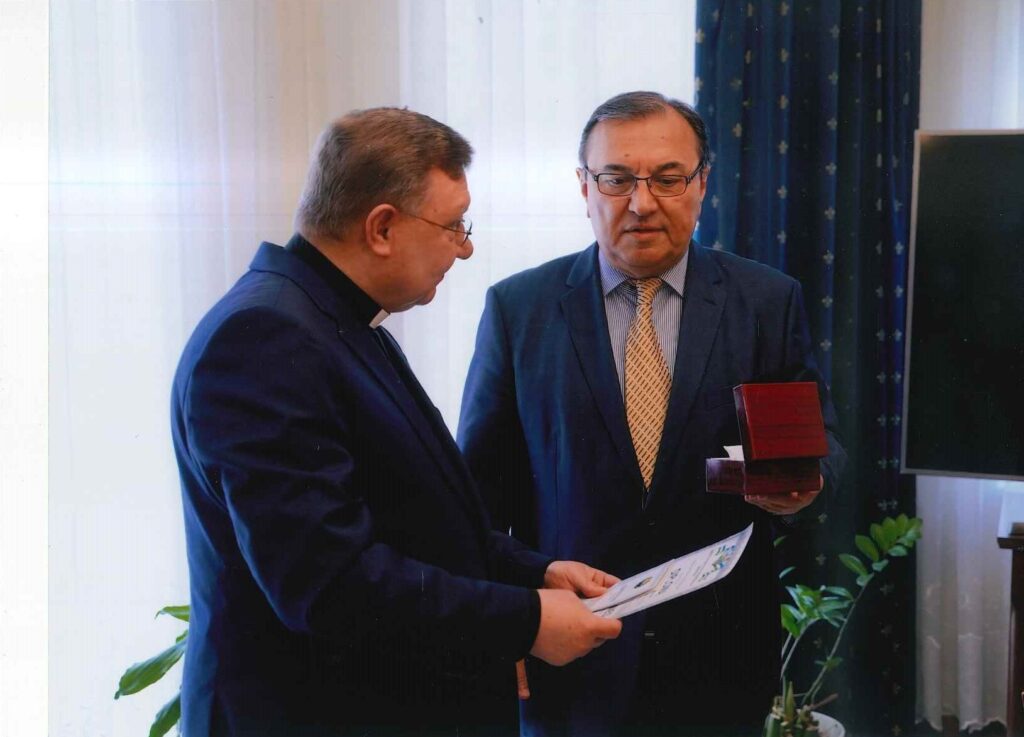 Nadanie tytułu profesora honorowego Uniwersytetu w Bucharze (Uzbekistan) oraz tytułu honorowego obywatela miasta Buchary.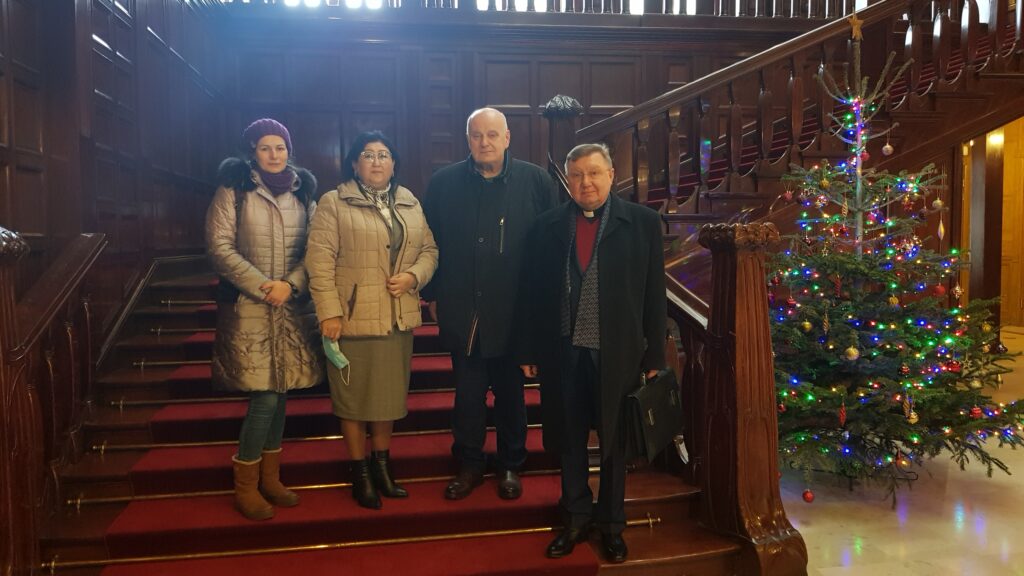 Wykaz wybranych publikacji naukowych:
Scientific magazines (published articles)
Polish Society for Manual Medicine magazine (1998/99)
"Criteria and Qualities of Therapeutic Spirituality"
"Symbol of disease"
"Against transplantation?"
"Spiritual and psychic dimension of disease"
"Medicine without human feelings"
"Euthanasia challenges"
"Ethics and the idea of progress in transplantation medicine"
"Musicotherapy in aiding education process of children and youths in adolescence"
About 200 publications in popular science published in social media.
Book:
Stasiak. J. (2022). Ignoramus et ignorabimus, NZOZ MZRiKWP Aleksandrów Łódzki, ISBN 978-83-959106-0-9
Monographs:
Janiszewski, M., & Stasiak J.. (2017). Prophylaxis and physiotherapy in the occupational hazard at the musician. Vol. 2 Łódź: Wydawnictwo Naukowe Wyższej Szkoły Informatyki.
Janiszewski, M., & Stasiak J. (2017). Metody intensyfikacji wypoczynku(Rest intensification methods) vol. 2. Łodź: Wydawnictwo Uniwersytetu Łódzkiego.
Janiszewski, M., & Stasiak J. (2018). Muzyka w profilaktyce, leczeniu i rehabilitacji(Musictherapy in prevention, treatment and rehabilitation)vol. 2. Radom: Radomska Szkoła Wyższa.
Janiszewski M. & Stasiak J.. (2018). Muzykoterapia w procedurach fizjoterapeutycznych(Musictherapy in physiotherapy procedures)vol.2. Radom: Radomska Szkoła Wyższa.
Stasiak J. (2019) Model Segmentowanej Spółdzielni Duchownych w oparciu o prawo Księstwa Liechtenstein i Europejskiego Obszaru Gospodarczego(Model of the Segmented Clerical Cooperative based on the law of the Principality of Liechtenstein and Economic Areas), Łódź
He is the author of the unique model of the operating system and the existence of the so-called Segmented Clerical Cooperative with the rights of the Principality of Liechtenstein. It is a unique solution created on the basis of the law of Liechtenstein and the countries of the European economic area for a specific social group (clergy of all denominations) pursuing their goals in the form of activities promoting members and the general public and bringing benefits to the public interest in the field of charity, religious, medical, scientific and cultural and investment-construction. Until now, in the economic sphere of European countries, there was no such systemic solution of an economic entity within the European Union. The idea, statute and functioning model of the study are copyrighted.
Publications/Articles
Stasiak J. (2020). The Influence of Social Innovation on the Competitiveness of the National Economy, Globalization, the State and the Individual, ISSN 2367-4555
Stasiak J. (2020). European Regional Policy, Globalization, the State and the Individual, ISSN 2367-9107
Stasiak J. (2020). Entrepreneurship Education In Poland, Globalization, the State and the Individual, ISSN 2367-4555
Stasiak J. (2020). Tax Management In An Enterprise – Burdens Groups, Globalization, the State and the Individual, ISSN 2367-9107
Stasiak J. (2020). Taxation Of Economic Entities In Poland, Globalization, the State and the Individual, ISSN 2367-9107
Stasiak J. (2020). Methodological issues of the analysis of innovative activity in the conditions of digital transformation, Globalization, the State and the Individual(26) ISSN 2367-4555
Stasiak J. (2020). Cost efficiency of decentralized spending, Globalization, the State and the Individual(26) ISSN 2367-4555
Stasiak J. (2020). Decentralization of public finance, Globalization, the State and the Individual(26) ISSN 2367-4555
Jacek Stasiak, Инновационная деятельность современной организации в парадигме цифровизации. gsi-Journal "Globalization, the State and the Individual" Varna Free University "Chernorizets Hrabar" Varna, Bulgaria, ISSN 2367-9107 брой 25
Jacek Stasiak, Особенности и специфика управления устойчивым инновационным развитием организации. gsi-Journal "Globalization, the State and the Individual" Varna Free University "Chernorizets Hrabar" Varna, Bulgaria, ISSN 2367-9107 брой 25
Jacek Stasiak, Применение цифровых технологий в управления процессами повышения эффективности использования производственного потенциала. gsi-Journal "Globalization, the State and the Individual" Varna Free University "Chernorizets Hrabar" Varna, Bulgaria, ISSN 2367-9107 брой 25
Stasiak J. (2021). Competition and partnership in public and private sector strategies, Globalization, the State and the Individual(27) ISSN 2367-4555
Stasiak J. (2021). Financial autonomy of local government, Globalization, the State and the Individual(27) ISSN 2367-4555
Stasiak J. (2021). Financial destabilization of Polish local government units, Globalization, the State and the Individual(27) ISSN 2367-4555
Stasiak J. (2021). Challenges for local government in Poland, Globalization, the State and the Individual(27) ISSN 2367-4555
Drozdowski, G.; Rogozińska-Mitrut, J.; Stasiak, J. The Empirical Analysis of the Core Competencies of the Company's Resource Management Risk. Preliminary Study. Risks 2021, 9(6), 107
Chomać-Pierzecka, E.; Kokiel, A.; Rogozińska-Mitrut, J.; Sobczak, A.; Soboń, D.; Stasiak, J. Analysis and Evaluation of the Photovoltaic Market in Poland and the Baltic States. Energies 2022, 15, 669.
Stasiak J. (2021). Task-based budget as a method of local government financial management, Globalization, the State and the Individual(28) ISSN 2367-4555
Stasiak J. (2021). Refund of gminas' revenues lost due to statutory reductions in
local taxes and charges, Globalization, the State and the Individual(28) ISSN 2367-4555
Stasiak J. (2021). Capital market instruments in the financing of local government units, Globalization, the State and the Individual(28) ISSN 2367-4555
Stasiak J. (2021). Integrated Regional Operational Programme as an instrument for supporting local and regional development in the perspective of EU funds for 2021-2027, Globalization, the State and the Individual(28) ISSN 2367-4555
Sobczak A, Chomać-Pierzecka E, Kokiel A, Różycka M, Stasiak J, Soboń D. Economic Conditions of Using Biodegradable Waste for Biogas Production, Using the Example of Poland and Germany. Energies. 2022; 15(14):5293
Stasiak J. (2022). Risk Management Of Investing In Financial Instruments, Globalization, the State and the Individual(29) p. 156-164, ISSN 2367-4555
Stasiak J. (2022). The Importance Og Anti-Crisis Shields In Enterprise Management In The Era Of Covid-19, Globalization, the State and the Individual(29) p. 183-191, ISSN 2367-4555
Stasiak J. (2022). Cash Management In Maintaining Liquidity In An Enterprise, Globalization, the State and the Individual(29) p. 192-201, ISSN 2367-4555
Stasiak J, Vepritsky R. (2022). Market Of Medical Services In Ukraine: Key Development Markers And Trends., Globalization, the State and the Individual(29) p. 202-210, ISSN 2367-4555
Stasiak J, Vepritsky R. (2022). Way To Overcome The Problem Low Compliance In The Practice Of A Doctor-Specialist, Globalization, the State and the Individual(29) p. 211-219, ISSN 2367-4555
Stasiak J, Vepritsky R. (2022). Scientific And Medical Cluster Of Physical Rehabilitation: Deep Specialization Or Diversification Of The Patient Profile, Globalization, the State and the Individual(29) p. 220, ISSN 2367-4555
Monographs/Books:
Stasiak J. (2020). Finances of Local Government Units, Wydawnictwo Wyższej Szkoły Gospodarki Krajowej w Kutnie.
Stasiak J. (2020). Inflow and Activity of Foreign Capital in Poland, Wydawnictwo Wyższej Szkoły Gospodarki Krajowej w Kutnie.
Stasiak J. (2021). Financial Management of Local Government Units, Wydawnictwo Wyższej Szkoły Gospodarki Krajowej w Kutnie.
Stasiak J. (2021). Financial Independence of Local Government Units, Wydawnictwo Wyższej Szkoły Gospodarki Krajowej w Kutnie.
Stasiak J. (2021). New Challenges for Public Management, Wydawnictwo Wyższej Szkoły Gospodarki Krajowej w Kutnie.
Stasiak J. (2021). Local Government Finance, Wydawnictwo Wyższej Szkoły Gospodarki Krajowej w Kutnie.
Stasiak J. (2021). Financial Management of Local Governments, Wydawnictwo Wyższej Szkoły Gospodarki Krajowej w Kutnie.
Stasiak J. (2021). Local Government Finance System, Wydawnictwo Wyższej Szkoły Gospodarki Krajowej w Kutnie.
Реализация государственной политики инноватизации в муниципальных образованиях 2020, Scientific Editorial Board: Stasiak J. AJP Gorzów Wielkopolski
Stasiak J. (2021). Реализация инновационной политики в организациях в условиях цифровой трансформации, Wydawnictwo Wyższej Szkoły Gospodarki Krajowej w Kutnie.
Stasiak J. (2021) Problems of Managing Sustainable Innovation Development of Enterprises in the Information and Digital Economy. Edited by Alexander A. Stepanov, Uczelnia Techniczno-Handlowa im. Heleny Chodkowskiej w Warszawie.
Stasiak J. (2022). Суверенитет доходов и расходов как потенциал для управления бюджетами польских местных самоуправлений, Wydawnictwo Wyższej Szkoły Gospodarki Krajowej w Kutnie.
Stasiak J. (2022). Rozwój Organizacji – w Świetle Współczesnych uwarunkowań Społeczno-Gospodarczych. Wydawnictwo Naukowe IVG. ISBN 978-83-962243-1-6
Stasiak J. (2022). Trends and Developments Innovation Policies Educationally (Theory and Practice) Chapter 1,5. Wydawnictwo Naukowe IVG, Warszawa ISBN 978-83-962243-3-0
Stasiak J. (2022). Project Management: shaping ihe Innovation Strategy of Commercial Enterprises. Chapter 1,2. Wydawnictwo Naukowe IVG, Warszawa ISBN 978-83-962243-2-3
Dissertations:
Dissertation (Doctoral thesis) Stasiak J. Wprowadzenie w instytucjach polityki innowacyjnej w warunkach transformacji cyfrowej for awarding educational and scientific degree 'Doctor'
Dissertation (Doctoral thesis) Суверенитет доходов и расходов как потенциал для управления бюджетами польских местных самоуправлений for awarding scientific degree 'Doctor of Science'
Citations:
Stasiak J. (2020). The Influence of Social Innovation on the Competitiveness of the National Economy,  Globalization, the State and the Individual, ISSN 2367-4555, p. 47-55 – [cyt. w:] Stepanov A.A., Savina M.V.,  Issues of innovative development sustainability management theory, [w:] Problems of managing sustainable innovation development of enterprises in the information and digital economy, Edited by A.A. Stepanov, Publishing house Wyższa Szkoła Gospodarki Krajowej w Kutnie, Kutno 2021, s. 11-28.
Stasiak J. (2020). Entrepreneurship Education In Poland,  Globalization, the State and the Individual, ISSN 2367-4555, p. 123-134 – [cyt. w:] Stepanov A.A., Savina M.V., Peculiarities of strategic management of sustainable innovative development, [w:] Problems of managing sustainable innovation development of enterprises in the information and digital economy, Edited by A.A. Stepanov, Publishing house Wyższa Szkoła Gospodarki Krajowej w Kutnie, Kutno 2021, s. 29-42.
Stasiak J. (2020). Methodological issues of the analysis of innovative activity in the conditions of digital transformation, Globalization, the State and the Individual(26) ISSN 2367-4555, p. 135-143 – [cyt. w:] Stepanov A.A., Savina M.V., Creative technologies of innovative development process management, [w:] Problems of managing sustainable innovation development of enterprises in the information and digital economy, Edited by A.A. Stepanov, Publishing house Wyższa Szkoła Gospodarki Krajowej w Kutnie, Kutno 2021, s. 43-56.
Stasiak J. (2020). Cost efficiency of decentralized spending, Globalization, the State and the Individual(26) ISSN 2367-4555, p. 154-160 – [cyt. w:] Stepanov A.A., Stepanov I.A., Peculiarities of formation of creative and innovative personnel potentia, [w:] Problems of managing sustainable innovation development of enterprises in the information and digital economy, Edited by A.A. Stepanov, Publishing house Wyższa Szkoła Gospodarki Krajowej w Kutnie, Kutno 2021, s. 57-60.
Stasiak J. (2020). Decentralization of public finance, Globalization, the State and the Individual (26) ISSN 2367-4555, p. 171-179– [cyt. w:] Stepanov A.A., Przehotska I., Commercialization as a tool for innovation, [w:] Problems of managing sustainable innovation development of enterprises in the information and digital economy, Edited by A.A. Stepanov, Publishing house Wyższa Szkoła Gospodarki Krajowej w Kutnie, Kutno 2021, s. 61-74.
Stasiak J. (2020), Finances of local government units, red. naukowa: Janusz Soboń, Wydawnictwo Wyższej Szkoły Gospodarki Krajowej w Kutnie. ISBN 978-83-63484-42-2, p. 162 – [cyt. w:] Stepanov A.A., Soboń J., Innovation consulting in the system of management of innovative development, [w:] Problems of managing sustainable innovation development of enterprises in the information and digital economy, Edited by A.A. Stepanov, Publishing house Wyższa Szkoła Gospodarki Krajowej w Kutnie, Kutno 2021, s. 75-82.
Stasiak J. (2020), Inflow and activity ff foreign capital in Poland, red. naukowa Joanna Rogozińska-Mitrut, Wydawnictwo Wyższej Szkoły Gospodarki Krajowej w Kutnie. ISBN 978-83-63484-39-2, p. 181 – [cyt. w:] Stepanov A.A., Soboń D.,  Communications as a factor of sustainable innovative development, [w:] Problems of managing sustainable innovation development of enterprises in the information and digital economy, Edited by A.A. Stepanov, Publishing house Wyższa Szkoła Gospodarki Krajowej w Kutnie, Kutno 2021, s. 83- 108.
Реализация государственной политики инноватизации в муниципальных образованиях(2020), praca zbiorowa pod redakcją naukową ks. dr Jacka Stasiaka i dr Dariusza Sobonia, ISBN 978-83-8209-105-2, Oficyna Wydawnicza ASPRA-JR, Warszawa 2020 – [cyt. w:] Stepanov A.A., Soboń D., Forms and models of organization of development and implementation of innovations in the regional economy, [w:] Problems of managing sustainable innovation development of enterprises in the information and digital economy, Edited by A.A. Stepanov, Publishing house Wyższa Szkoła Gospodarki Krajowej w Kutnie, Kutno 2021, s. 109-116.
Stasiak J. (2021), Financial independence of local government units, red. Naukowa Joanna Rogozińska-Mitrut, Wydawnictwo Wyższej Szkoły Gospodarki Krajowej w Kutnie. ISBN 978-83-63484-43-9, p. 120 – [cyt. w:] Rogozińska-Mitrut J., Performance management of sustainable innovative development, [w:] Problems of managing sustainable innovation development of enterprises in the information and digital economy, Edited by A.A. Stepanov, Publishing house Wyższa Szkoła Gospodarki Krajowej w Kutnie, Kutno 2021, s. 117-140.
Stasiak J. (2020). Cost efficiency of decentralized spending, Globalization, the State and the Individual(26) ISSN 2367-4555, p. 154-160 – [cyt. w:] Muszyński J.A., National innovation policy: the israeli experience, [w:] Problems of managing sustainable innovation development of enterprises in the information and digital economy, Edited by A.A. Stepanov, Publishing house Wyższa Szkoła Gospodarki Krajowej w Kutnie, Kutno 2021, s. 141-146.
Stasiak J. (2020), Inflow and activity ff foreign capital in Poland, red. naukowa Joanna Rogozińska-Mitrut, Wydawnictwo Wyższej Szkoły Gospodarki Krajowej w Kutnie. ISBN 978-83-63484-39-2, p. 181 – [cyt. w:] Muszyński J.A., National innovation policy: the israeli experience, [w:] Problems of managing sustainable innovation development of enterprises in the information and digital economy, Edited by A.A. Stepanov, Publishing house Wyższa Szkoła Gospodarki Krajowej w Kutnie, Kutno 2021, s. 141-146.
Stasiak J. (2020), Taxation Of Economic Entities In Poland,  Globalization, the State and the Individual, ISSN 2367-9107 – [cyt. w:] Rogozinska-Mitrut J., Общественные объединения как инструмент реализации новой социальной политики в сфере потребительской кооперации в муниципальных образованиях – Глава VI., [w:] Реализация государственной политики инноватизации в муниципальных образованиях, Uczelnia Techniczno-Handlowa im. Heleny Chodkowskiej, Warszawa 2020, (ISBN 978-83-8209-105-2), p. 197-216.
Stasiak J. (2020), Finances of Local Government Units, Wydawnictwo WyższejSzkoły Gospodarki Krajowej w Kutnie – [cyt. w:] Rogozinska-Mitrut J., Общественные объединения как инструмент реализации новой социальной политики в сфере потребительской кооперации в муниципальных образованиях – Глава VI., [w:] Реализация государственной политики инноватизации в муниципальных образованиях, Uczelnia Techniczno-Handlowa im. Heleny Chodkowskiej, Warszawa 2020, (ISBN 978-83-8209-105-2), p. 197-216.
Stasiak J. (2020), Decentralization of public finance, Globalization, the State and the Individual (26) ISSN 2367-4555 – [cyt. w:] Soboń J., Drozdowski G., Rogozińska-Mitrut J.: Preparation of human capital for changes: empirical study, 11th International Scientific Conference "Business and Management 2020" May 7-8, 2020, Vilnius, Lithuania, Section: Contemporary Business Management: Challenges and Opportunities, s. 212-218, (ISSN 2029-4441/eISSN 2029-929X, ISBN 978-609-476-231-4, eISBN 978-609-476-230-7)  https://doi.org/10.3846/bm.2020.607.
Stasiak J., Finances of Local Government Units, Wydawnictwo Wyższej Szkoły Gospodarki Krajowej w Kutnie, Kutno 2020; [cyt. w:]  Trends and developments  innovation policies  educationally (theory and practice), Reviewers: Pavel Pavlov, [w:] Seleznova R., Financial control in the context of digital  transformation (Rozdział VI), Warszawa 2022.
Stasiak J., Financial destabilization of Polish local government units, Globalization, the State and the Individual(27), 2021, ISSN 2367-4555; [cyt. w:] PROJECT MANAGEMENT: SHAPING THE INNOVATION STRATEGY OF COMMERCIAL ENTERPRISES, [w:] Soboń J., Zarządzanie marką w przedsiębiorstwach, (Rozdział III), Warszawa 2022.
Soboń D; Stiepanov AA. (2021) Modern Management, The Jacob of Paradies University in Gorzów Wielkopolski
Stiepanov AA. (2021) Problems of Managing Sustainable Innovation Development of Enterprises in the Information and Digital Economy. Edited by Alexander A. Stepanov, Uczelnia Techniczno-Handlowa im. Heleny Chodkowskiej w Warszawie.
Stasiak J. (2022). Trends and Developments Innovation Policies Educationally (Theory and Practice) Chapter 1,5. Wydawnictwo Naukowe IVG, Warszawa ISBN 978-83-962243-3-0
Stasiak J. (2022). Project Management: shaping ihe Innovation Strategy of Commercial Enterprises. Chapter 1,2. Wydawnictwo Naukowe IVG, Warszawa ISBN 978-83-962243-2-3